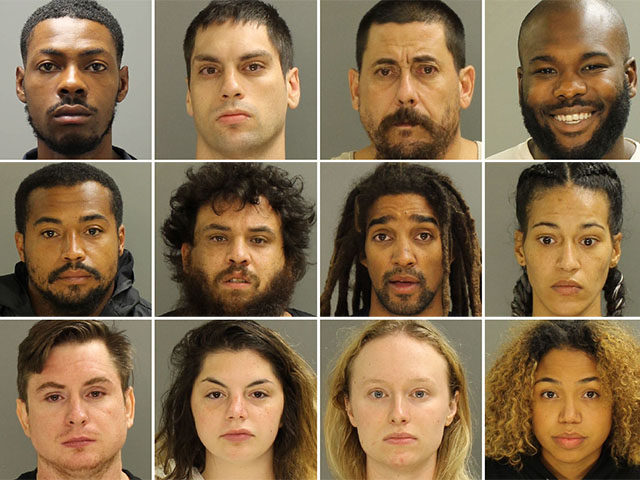 Lancaster, Pa. police took 12 adults and one minor into custody for reportedly perpetuating carnage during a Black Lives Matter demonstration early Monday morning. The aggression between law enforcement and demonstrators eventually forced police to use tear gas to gain control over the mob. A judge is now holding the suspects on bail for $1 million each for purportedly rioting.
The hostility in Lancaster occurred as a reaction to the death of 27-year-old Ricardo Munoz, a suspect said to have run at an officer while holding a knife, as seen in police body-camera footage.
The police fired on Munoz outside his mother's house on Sunday in downtown Lancaster, leading to his death.
A mob of leftists marched from the site of the shooting to the local police station throwing glass bottles, jugs holding liquid, and bricks along the way, police reported.
A vehicle owned by the county was parked in front of the police precinct and was damaged during the march as well.
According to Breitbart News, the suspects arrested were "Twelve adults — Talia Gessner, 18; Taylor Enterline, 20; Kathryn Patterson, 20; Yoshua Dwayne Montague, 23; Jamal Shariff Newman, 24; T-Jay Fry, 28; Dylan Davis, 28; Lee Alexander Wise, 29; Barry Jones, 30; Matthew Modderman, 31; Jessica Marie Lopez, 32; and Frank Gaston, 43 — face multiple felony and misdemeanor rioting charges, including arson, riot, criminal conspiracy, and institutional vandalism."
"A 16-year-old boy also faces rioting charges and other charges including disorderly conduct, marijuana possession, possession of instruments of crime, propulsion of missiles onto a roadway, and institutional vandalism," Breitbart reported.
Montague is facing additional charges of illegal possession of a firearm, according to Breitbart.
Judge Bruce A. Roth of the Magisterial District set bail for nine of the defendants at $1 million each, with records showing that none of the suspects was able to post bond.
Information on the bail for suspect Lopez could not be obtained, and another suspect, Wise, had bail set at $100,000. Wise also was not able to post his bail at the time of reporting, according to sources.
Police reported that Gaston was on probation when he was taken into custody, which could now be held against him. The gang of suspects is currently being detained at the Lancaster County Prison.
The high price tag of the $1-million bail inspired a harsh response from a local activist group called Lancaster Stands Up, which alleged that Patterson and Enterline were acting as Antifa "medics" at the demonstration when they were arrested.
This photo is of Taylor Enterline, staging a peaceful protest for racial justice in front of the Manheim Borough Police station this summer. A Lancaster judge just set her bail at one million dollars for participating as a medic in last night's protests. pic.twitter.com/nR43TNJFDP

— Lancaster Stands Up (@lancstandsup) September 15, 2020

"The absurdly high bail amounts indicate that what we're seeing is not a measured pursuit of justice, but a politically motivated attack on the movement for police reform and accountability," the group posted on Twitter.
The high price for the suspects' bail also got slammed by Pennsylvania's Lt. Gov. John Fetterman, who said it was "blatantly unconstitutional."
"It's self-evidently unconstitutional," Fetterman complained to Lancaster Online. "Whatever the merit of the underlying charges, what is absolutely indefensible is a million-dollar bail for those charges."
The police at the center of the controversial shooting were on the scene to respond to a 911 call that Munoz's own mother made begging for help. She told the dispatcher her son started to get "aggressive" and was attempting to forcibly break into her house.
"The caller related that her brother was reportedly becoming aggressive with his mother and was attempting to break into her house," police said in a press release.
Munoz's family has since confirmed that he has a history of schizophrenia as well as bipolar disorder and at the time of the incident had stopped taking his required medication.
In 2019, Munoz was supposed to go to trial for charges related to slashing four people in an attack with a knife, according to the New York Post.
Image Breitbart