A server at a Chicago restaurant apparently is now on the unemployment line after writing a police detective a nasty note on the receipt for his take-out order.
On Sunday the server, who formerly waited tables at the Happy Camper bar and pizza restaurant in the Wrigleyville section of Chicago, wrote "Quit your job!" on the receipt for the detective's meal, according to a photo acquired by local news outlet CWB Chicago.
CWB reports the detective put his $66 order in the trash after reading the unflattering remark over fears his food may have been tampered with.
Happy Camper addressed the issue in a statement posted Monday on both its website and Facebook page, reassuring future customers the employee has been released.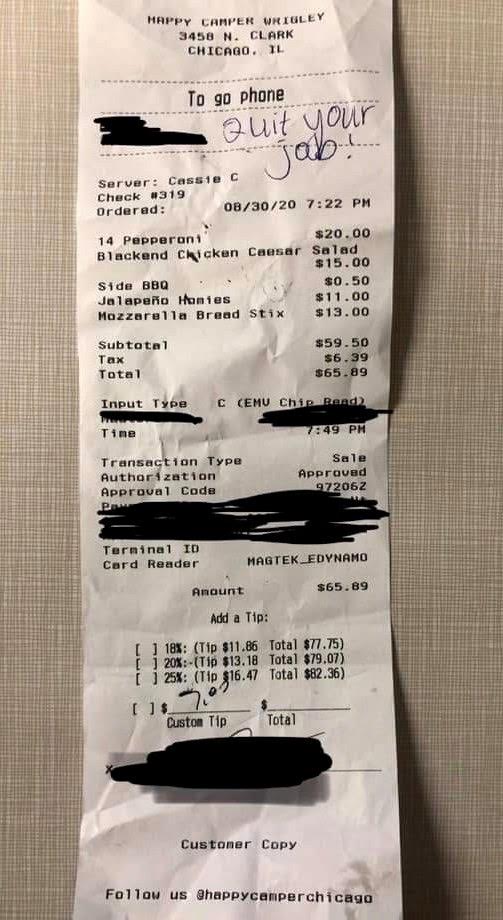 Image: CWB Chicago
"Our company works incredibly hard to provide a positive and enjoyable experience for all customers," the post read. "Upon learning this morning about an incident last night involving a customer, we immediately took action to terminate the employee."
"We sincerely and humbly apologize — the action of one does not accurately reflect who we are as a company," Happy Camper added. "We have zero tolerance for any behavior that doesn't give our customers the full respect they deserve."
The restaurant also left a comment on the post saying that the establishment had given a personal apology to the detective.
"Please also know that Happy Camper has reached out to the police officer to personally apologize, offer a full refund and provide a gift card to his restaurant of choice," the comment read. "Thanks again to all of our customers for your understanding."
Over 250 people left comments on the apology post as of Tuesday night. Scores of potential customers applauded the restaurant for cutting the employee loose.
"Nice to see a business take the appropriate action," one comment read. "One employee does not reflect the business as a whole."
Another person posted: "Good call. Absolutely unacceptable behavior. Thank you for holding the employee accountable. I hope the message was loud and clear to other employees."
One more person added, "It's about time a business establishment had the guts and courage to stand up for what is right. Thank you for taking the high road! What a great example for all of us, especially during this extremely divisive time in our nation."
Crime has been running wild all over Chicago under the leadership of Democrat Mayor Lori Lightfoot, who has earned the nickname by critics "Lori Lootfoot." The police force in the Windy City has been overwhelmed by rampant gang violence as well as Black Lives Matter riots which have targeted police officers and businesses.
On the campaign trail this summer, President Trump referenced the chaos in America's Second City by saying, "In Chicago, they literally raised up the drawbridges to prevent hordes of rioters from ransacking the city. Can you believe it?"
"This is the future that Joe Biden plans to bring to every city, town and suburb in our nation," he added.
The sentiment with many Chicagoans does not align with the president. "I will support the looters till the end of the day. If that's what they need to do in order to eat, then that's what you've got to do to eat," Black Lives Matter leader of Chicago, Ariel Atkins, told WBEZ regarding people who attempted last month to smash into a Ronald McDonald House for ailing children and their families.
Atkins added he does not believe the Civil Rights Movement had "ever gotten wins" from engaging in "peaceful protests."
"Winning has come through revolts. Winning has come through riots," she stated.
The detective who received the unkind note with his food had been working 12-hour days with limited time off due to Chicago's current situation and was dressed in full uniform when he came to claim his order, reports say.
Censored.TV is the world's #1 MAGA network. Sign up today for daily programming from Gavin McInnes, Laura Loomer, Jim Goad, Milo Yiannopoulos and many others.