Dear Censored,
Your fellow Scottish countryman, John Knox, the founder of the Scottish Presbyterian church wrote "The First Blast of the Trumpet Against the Monstrous Regiment of Women" (https://www.gutenberg.org/files/9660/9660-h/9660-h.htm) making a strong argument for why woman should NOT be rulers.
Ballsy! At the time Catherine de Medici ruled France, Marie De Lorraine (followed by Mary Queen of Scots) ruled Scotland, and Mary Tutor (followed by Elizabeth) ruled England. A lot of burning at the stake and very refine torture was being done under the benevolent rule of woman.
Maybe he had a point, Great Britain has had a Queen now for almost 70 years.  Is it better off now than 70 years ago?  If this argument were applied to a democracy, would it stand for the proposition that woman should not vote?  In the USA, woman have been voting now for 100 years?  Has it gotten better or worse? 
-John
Dear Censored,
Checkout these Brits demonstrating a "proper K.O."  Hopefully the big guy is paid well.       More videos with M.E.M.E. Defense      
I like your new sunglasses         
– John

Dear Censored,
I just wanted to mention how happy I am that I took your advice and started a family with my lovely wife.
For many years we thought we would prefer to not ever have kids and keep our freedom. It was not until we had our first daughter that we realized how retarded we had been for not wanting this sooner.
She has spent a large portion of her life watching the show with her mother and I. When you guys come on, she waves and claps (picture proof included).
Thanks for the kick in the balls. It was a life changer.
Love your new sunglasses,
-Brad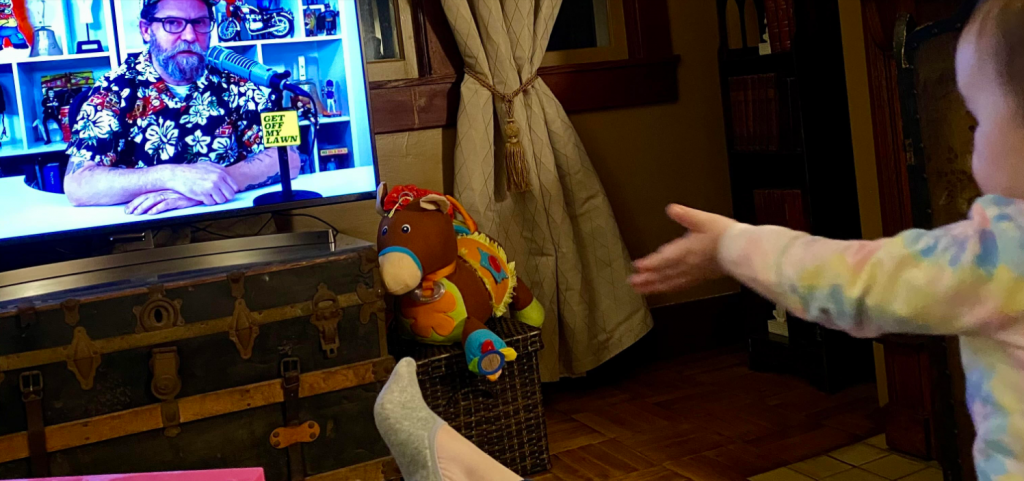 Dear Censored,
My wife loves the Bachelor and they're having a huge controversy right now because one of the contestants this season was pictured at an Antebellum themed sorority party when she was in college. Now everyone is accusing her of racism. The longtime host of the Bachelor, Chris Harrison, defended her and blasted cancel culture in a recent interview. Once the mob came for him he immediately capitulated and begged for mercy. I've attached his official apology. Is this not weakest thing you've ever seen? 
-Rob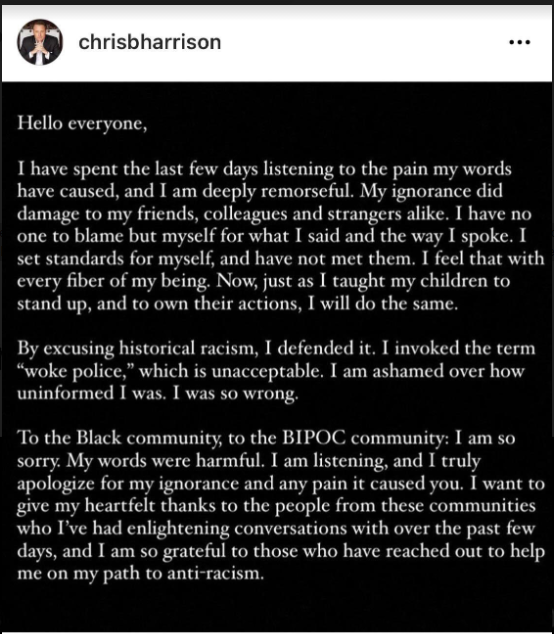 Dear Censored,
Islam's fantastic vegetables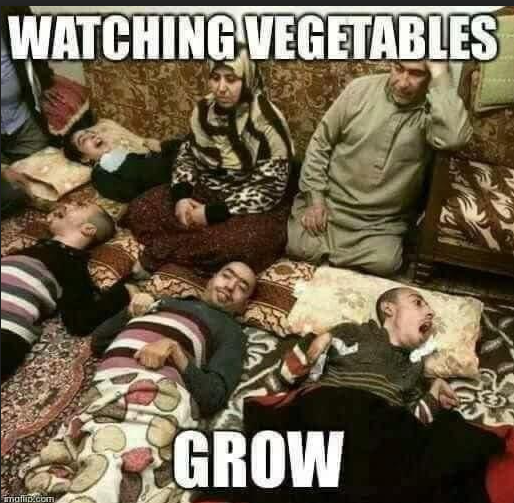 Dear Censored,
Thought I'd bring you some news from the future American dystopia of the UK.
I was browsing through some fairly innocuous YouTube videos at the weekend when a paid advertisement plays in front of the Biden parody video below – it was for 'Far-right extremism' deprogramming charity EXIT UK, in particular 'Nathan's Story' (link: https://exituk.org/stories#nathansstory). I am sceptical that the advertisement targeted me due to the YouTube content I was viewing (I include the full list below for transparency – right-wing stuff sure but nothing dodgy).
I believe that the ads must have been targeting me based on my Google search history, which included a search for Censored.tv earlier that day. The rest of the search history is for local sushi places, baby stuff and so on. As of 2019, YouTube can use your Google search history to allow companies to target you with ads – I've watched Tucker videos for years and have never seen anything like this, aside from the 'harmful website' warnings that Virgin place on the Censored.tv site here (as you're aware of).
For background, there are tougher Hate Speech laws in the UK including the case of Harry Miller last year, in which a man was interrogated by police for retweeting a transphobic limerick. The officer mentioned that he was questioned in order to 'check [his] thinking' (story here: https://www.spiked-online.com/2019/01/28/how-limericks-became-a-police-matter/). It was recorded as a 'non-crime hate incident' for the 'promotion' of the limerick.
How soon will 'promotion' turn into 'consumption' in order to qualify as a non-crime hate incident? If a company can use your search history to categorise you as a far-right extremist, you can be sure that governments are doing it as well.
Hannity: Trump's Legal team 'completely eviscerated' Dems' 'paper thin' arguments
The Simpsons Promo from 1989
Reporter points out the brutal reality of Biden releasing illegal immigrants [The Blaze]
[AI Voice] Joe Biden gives Bart advice on girls.
[AI Voice] Joe Biden Ties and Onion to his Belt
Best wishes,
-John
Dear Censored,
Dear Censored,
Recently an Austrian born rapper, known as Mr.Bond, was arrested following a live streamed antisemetic attack in Germany. Source:
https://www.theguardian.com/world/2021/feb/02/austrian-rapper-mr-bond-arrested-over-neo-nazi-songs
Here is an album of Mr.Bonds:https://archive.org/embed/Mr.BondWindOfAdolfScorpionsWindOfChangeParody&playlist=1
Gavin, what do you think the implications of this are? Dislike the guy or not, being arrested because you made some dumb parodies doesn't seem like grounds to be thrown into prison. Imagine if PewDiePie was arrested because of the Christchurch shootings. How much longer until the United States starts following a similar trend? I couldn't imagine the horror that would ensue if someone were to say, "Get fired, get in trouble…" whilst committing an act of violence.
-Xi

PS. I love your new heels, I wanna fuck you with my sunglasses! 
Dear Censored,
https://www.frontpagemag.com/fpm/2021/02/southern-poverty-law-center-stops-monitoring-black-daniel-greenfield/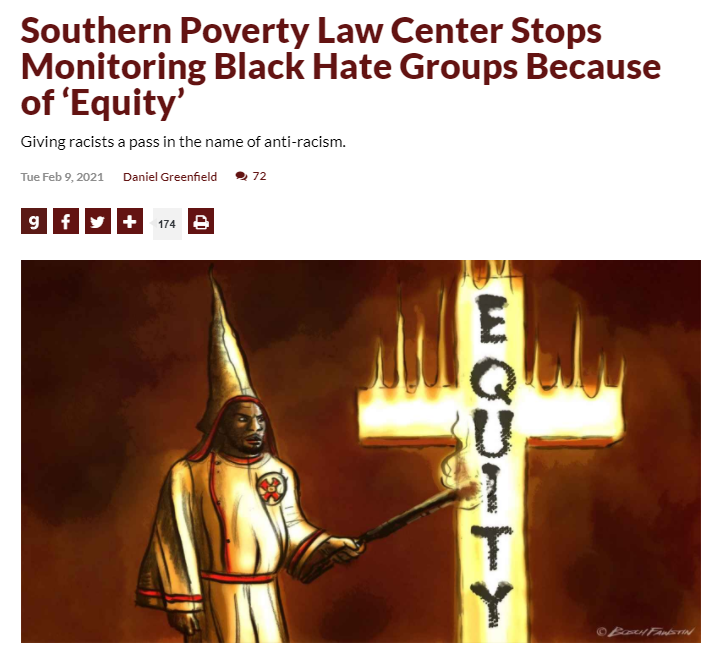 Dear Censored,
 I found a great drop for when King of The Fag Zone says something retarded. Fuck heels, I like sunglasses.

-Eli
Dear Censored,
A governor with brass balls.. finally!
PS: Thank you Gav for introducing me to new music that I would have never otherwise heard . I can't say that it's all good..
but there are some gems that you toss out to us peasants from time to time that absolutely rock. Much Appreciated.- Ryan, your sopranos impressions are the best I've heard.. if you would just quit playing with your mother-fucking hair non-stop.. maybe a hat?
Move to Montana.. it's the last bastion of the sane man, (your daughter can be a freak anywhere, every city has them).
Love from the Great White North
-Kevin
Dear Censored,
NUT BROWNIE!!! SUBVERSION ON A MASSIVE SCALE!!!
-Dean

Dear Censored,
Gavin please get this to tucker and share it on your show- I made this on Parler and it blew up before Parler was deleted-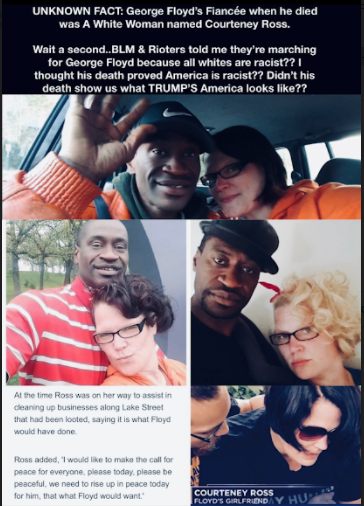 Dear Censored,
Jordan peterson more or less predicting the capital riot. Besides that they were nazis. When you walk over someone for so long, eventually they will stand up for themselves.Start at 0:55
-AYH
Dear Censored,
Another vote for Purcellville, Virginia!
-3 gun shops, one that serves coffee 
-Martin Lawrence lives here but he's selling his house so you could buy it -Lots of farms and wineries and breweries and the occasional horse race to get drunk at-Public schools are good but lots of families homeschool too so it's not weird (Purcellville is home to Patrick Henry College and the homeschool legal defense)-Tons of hiking trails nearby and close to the Appalachian trail -Fox hunting is a thing here which I've never done but seems cool -Far enough away from DC it's easy to forget about it but close enough you could drive in for the day if you have to  -Civil war history 
However, please cross every West Virginia town off your list. WV is the least economically free state in the U.S. and it's just depressing over there.
But if you choose Knoxville, TN we would understand. That's our backup town if Virginia continues to get more liberal.
Good luck!

-Elise 
Dear Censored,
New masking video from Chicago, leads to this guys arrest.  I dont know who this guy is but he seems really fucking cool.
https://www.towleroad.com/2021/02/chicago-gym-mask/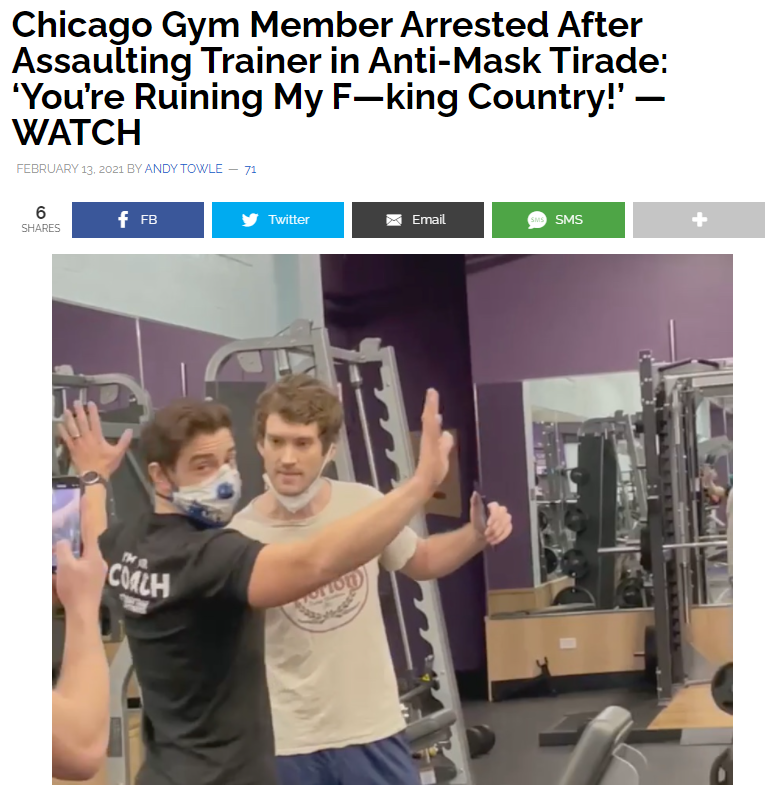 -Craig
Dear Censored,
It doesn't say in this article if evidence was found that this man was scanning police equipment or not, but I remember in the video it does look like the older man was doing something with his phone around the officers. This video was used as propaganda in the riots against the police and this video got me too. I had people say in opposition when I brought up how the elderly man got hurt, in which they said he was walking directly into a war zone. They also stated that police were protecting themselves and the man should have never been there in front of them and he knew better, but who knows? I want to know if the elderly man was trying to interfere with their comms though.
Grand Jury Dismisses Felony Charges Against 2 Buffalo Cops Who Pushed 75-Year-Old Man
https://www.newsmax.com/t/newsmax/article/1009721?dkt_nbr=0101043kfnwr&section=us&keywords=buffalo-police-floyd-gugino&year=2021&month=02&date=11&id=10
-Christine
Dear Censored,
I want to start off by saying, Ryan you are the Asian friend that I never want to have.. stupid and gay, but I still love you.  Anyways, this family dynamic is a tad confusing but I'm about to explain how my family endorses pedophilia. So when my cousin was around 16, he molested his younger cousin who was an 8 year old girl at the time. Disgusting, I know. Thank god she went to her teacher at the time and of course the teacher had to report it. The whole family found out about it and charges were pressed against him by the parents of the little girl. He only received 10 years probation for this absurd act. So my other cousin who is a normal human being saw my pedophile cousin at school and my pedophile cousin gave him a high-five that he only got probation. What the fuck? This guy has to be a sociopath. He also was caught stealing and sniffing his mother's underwear and when our uncle died he stole all of his pornos from his garage. 
Every Christmas Eve my family gets together and that year while we were all eating the pedophile comes out of the living room and makes a speech about how he's sorry for what he did and he is also sorry for tarnishing the family name. There is a dead silence and my grandfather just says, "we forgive you". Things just resume back to normal like nothing happened. Fast forward years later he's got a daughter of his own now and the whole family acts like this is just a thing of the past and nothing ever happened. Personally I can't stand the sight of him and hate when he is invited to family functions because all I can think about is how he's a fucking pedophile. I was 18 at the time so that's why I never said anything but I feel like the older males of the family should have had more honor by beating the shit out of him or something when he came out and made his "apology". 
For context, I'm biracial and this is the white side of my family I'm talking about. They are very "kumbaya" kind of people.  If this would have happened on the black side of my family, he would have gotten the shit beat out of him and gotten torn apart. I mean, everytime my black uncle would see me he would punch me square in my chest. If I cried he would tell me to "stop being a pussy and now I know what it's like to be punched, so I better man up because life feels a lot worse". So this anecdotal situation further supports my own theory that Whites are less confrontational than Blacks. 
Love the show and keep fighting the good fight guys. Much love. 
-Jo
Dear Censored,
I was reminded of good Merle Haggard song when you guys were listening to his music on Thursday's show; I hope you guys haven't heard it. 
I boxed when I was in high school and was the only white guy in my gym. The black and Mexican boxers in my gym would refer to me as "Max The Arian-Barbarian Thomas" and would tell me that White Boy by Merle Haggard needed to be my walk out song if I ever went pro. I hope you guys enjoy. 
I like you more than a friend,Max
Dear Censored,
I agree with you that most Key and Peele skits are dumb. This one is kind of dark and funny tho.
Thanks

Dear Censored,
Coming at yeah from Carp!  This guy is hit and miss but I think you'll get a kick out of this one!
-Andrew
Dear Censored,
Dear Censored,
Here is a bunch of really cringey cartoons. All my algorithms are right-leaning, so I never see this gay shit, but I thought I'd dip my toes.
The result shows how unfunny their memes and cartoons are, as opposed to our guys like Ben Garrison and Stonetoss.
Anyway, love your new sunglasses!!
Look great, by the way!
So much this!
Take my money!
Epic!
Oh hell yeah!
They're everything 2021 needs right now!
-Israel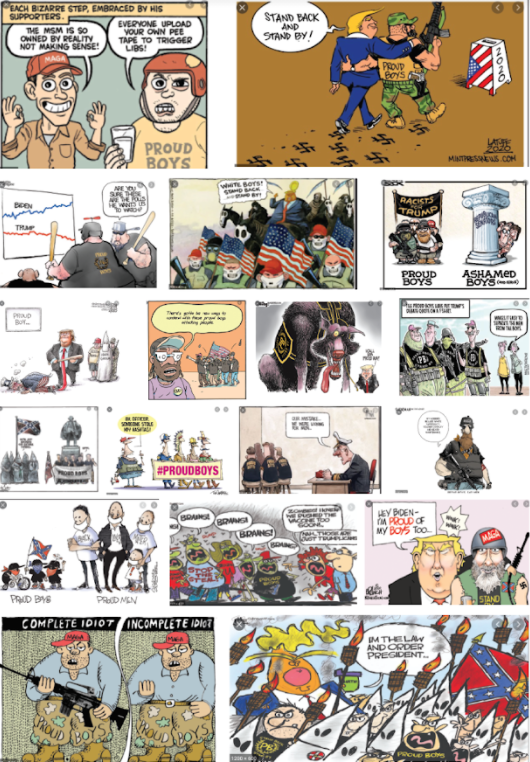 Dear Censored,
True champion against tattletalers
Dear Censored,
Hey fags… Do you guys get the feeling that joe biden looks like someone who had a face transplant. He has deep beady eyes set back in the skin And seems like he is limited on facial expressions.
It could explain his slurring of words. Maybe whoever is under that skin mask is having a tough time thinking of what biden would actually say so they get confused and fumble words and shit.
It doesnt really matter if this is true cause we all know biden is a mask for the puppet masters behind the scenes. You kno the people who like sticking their hands up old peoples ass and moving their hand to make mouths move.
 Heels on for this fucking! Later
-AW
Dear Censored,
I've been married for a few years now and my wife's older sister is a lesbian and married to another woman. Like clockwork, they turned 30 and started to think about having kids since they knew their biological clock was winding down.
They recently started working with a sperm donor to find someone they liked enough to artificially create a child. They went through thousands of hours of interviews and profiles to find the perfect man for the job. They eventually picked a doctor and went ahead with the procedure and they found out my sister in law was pregnant a few weeks later. 
While I am happy for them and think they will make great parents, I can't help but feel completely weirded out by the situation. They never met this guy and this kid is going to grow up without a father, thinking of him as a mystery man that came and went (literally)  like a ghost in the night. All they will really know is that he was a doctor that jerked himself off into a plastic cup. Unlike a child who's dad abandoned him when he was young, this kid can't even go searching for his father to figure out what his other half is like. 
It's bizarre to think that my sisters in law are paying tens of thousands of dollars to do something that my wife and I can do for free. It's so unnatural and feels like they are fighting the tide of how things are supposed to be. 
I am not opposed to gay marriage or even their ability to do something like this but it feels wrong deep in my loins and I suspect everyone probably feels similarly if their being honest with themselves. Obviously there are situations where sperm donors are necessary and would never want to slow down child rearing in America so I celebrate them and their choice. 
On the other side of the coin, it blows my mind to think that the sperm donor knows he'll have a child somewhere in the world and have zero contact with said child. If I knew I had a kid that sprang from my loins, I would need to have some contact to see my offspring. Again, it feels wrong that this man will have a biological child in the world and won't have any responsibility for them. I assume you would feel the same way and would like to hear your thoughts on this topic.
-Rich