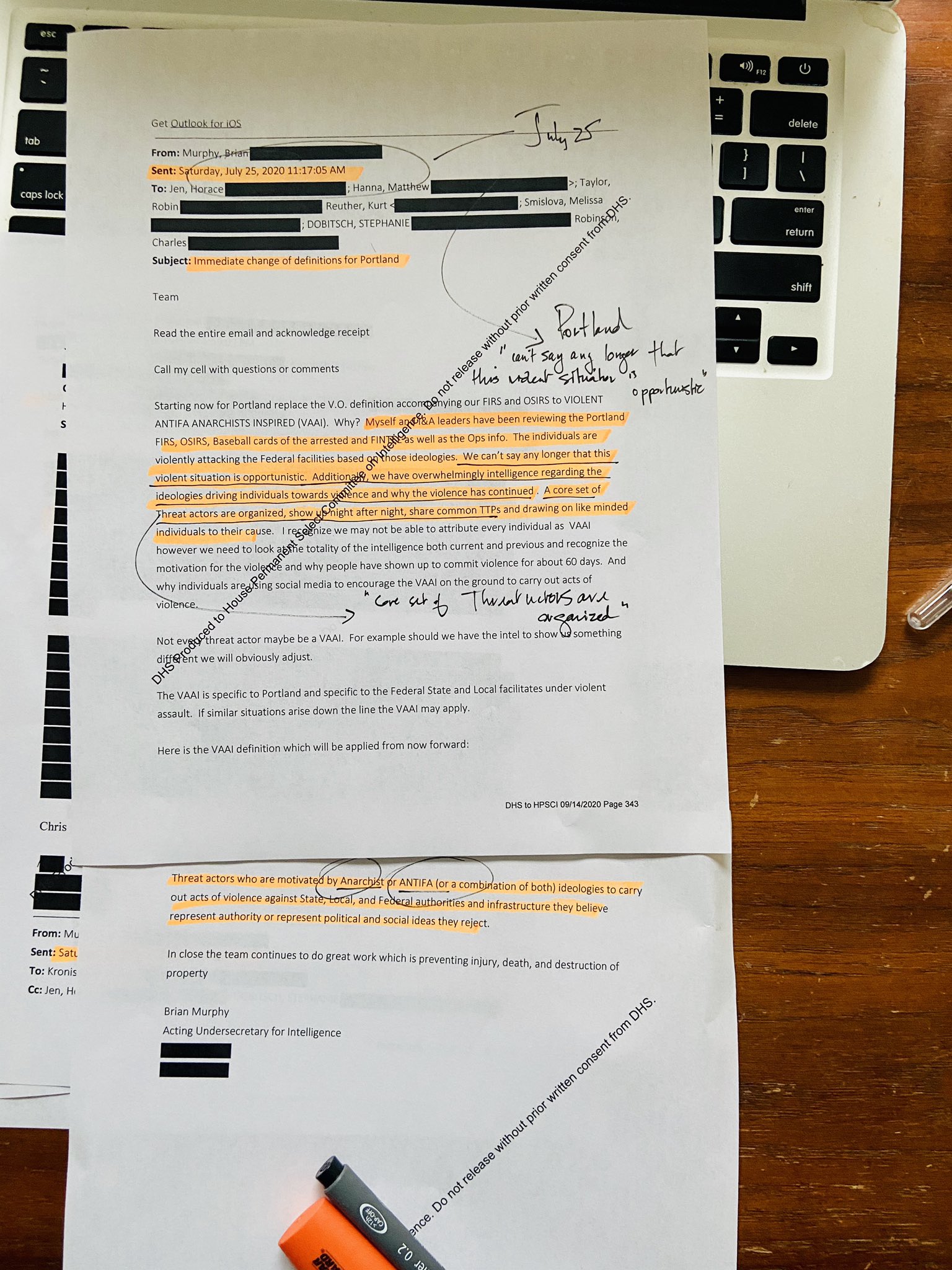 Late Monday, an internal email from the Department of Homeland Security was leaked to Catherine Herridge of CBS claiming that the mob uproar that has plagued Portland all summer was not merely "opportunistic," but instead quite "organized." These new details appear to substantiate suspicions about Antifa being investigated by authorities as an organized movement.
The leaked email reveals Antifa, the group said to be a grassroots collection of "anti-fascists," is documented to be organized by a central power with a guiding political agenda—a contradiction to mainstream media reports painting Antifa more in the light of average citizens taking to the streets.
Mark Bray, author of Antifa: The Anti-Fascist Handbook, recently wrote a piece for the Washington Post attempting to dismiss the "myths" about Antifa. Bray argued the assemblage is not an organization, but instead a "tradition of militant antifascism." Bray's OpEd went on to dismiss accusations that Antifa "masterminds violence at Black Lives Matter protests."
Brian Murphy, DHS Acting Under Secretary for Intelligence & Analysis, sent out an email to others working in the department on July 25 laying out his conclusions of Antifa in Portland. The email then released in printed documents obtained by Herridge.
#Whistleblower #PortlandProtest Breaking: According to this @DHSgov internal email, obtained @CBSNews, former Acting Under Secretary for Intelligence & Analysis Brian Murphy wrote colleagues on July 25th that the Portland violence was not "opportunistic" but "organized" citing pic.twitter.com/K7Aoe0yFbB

— Catherine Herridge (@CBS_Herridge) September 14, 2020

Murphy encouraged an abrupt modification of definitions for the aggressive movement in Portland. This followed an assessment of the individuals detained by federal authorities, along with intelligence adjoining their associations and actions.
"The individuals are violently attacking the Federal facilities based on these ideologies," he wrote referring to Antifa, which he called VAAI or "VIOLENT ANTIFA ANARCHISTS INSPIRED."
"We can't say any longer that this violent situation is opportunistic," said Murphy in the email. "Additionally, we have overwhelmingly intelligence regarding the ideologies driving individuals towards violence and why the violence has continued."
"A core set of Threat actors are organized, show up night after night, share common TTPs and drawing on like minded individuals to their cause."
TTP is short for Tactics, Techniques and Procedures.
"I recognize we may not be able to attribute every individual as VAAI however we need to look at the totality of the intelligence both current and previous and recognize the motivation for the violence and why people have shown up to commit violence for about 60 days. And why the individuals are using social media to encourage the VAAI on the ground to carry out acts of violence."
The ongoing riots in Portland were at the sixty-day mark when this email was allegedly written. The same individuals rioting under the Antifa banner in Portland have been seen in other cities where violence from Black Lives Matter has taken a foothold, including Washington DC, Seattle, and Kenosha. Much of the aggression has been prompted by pro-Antifa groups on social media platforms such as Facebook, Twitch, and Twitter.
"Threat actors who are motivated by Anarchist or ANTIFA (or a combination of both) ideologies to carry out acts of violence against State, Local, and Federal authorities and infrastructure they believe represent authority or represent political and social ideas they reject," Murphy wrote.
Terminology resembling "Every city, every town. Burn the precincts to the ground" is an ordinary occurrence at demonstrations for Black Lives Matter, and has been shouted out by crowds while setting fires to the Portland Police Bureau, the Mark O. Hatfield federal courthouse in Portland, and other public buildings where Antifa and Black Lives Matter agitators gathered.
The new information directly from the DHS confirms accusations by critics who have insisted Antifa is an organized movement. It contradicts the narrative that the collection of people who have taken to the streets have no objective to engage in acts of violence and don't wish to start an uprising against the government of the United States.