Dear Censored,
I am a married man who, like you, has a technique to silence my nasty beer farts as to not gross out my wife. My style is different from yours though. I use my right hand to grab my right butt cheek and spread that guy as far as possible to open up the butthole in turn silencing my farts. (side note: not sure which technique is less gay. You plunging your hand between both cheeks and farting all over your fingers, or my grabbing my own ass cheek like some horny perv)
Any how the other morning I was employing my technique and all of a sudden "riiiiiiiiip" a loud fart came zooming out of my butthole. I sat there stunned for a second but then I had an epiphany!!
My butthole may very well be tighter than Brian Stelter's Wife's Pussy!!!
That's all for now,

-Jeff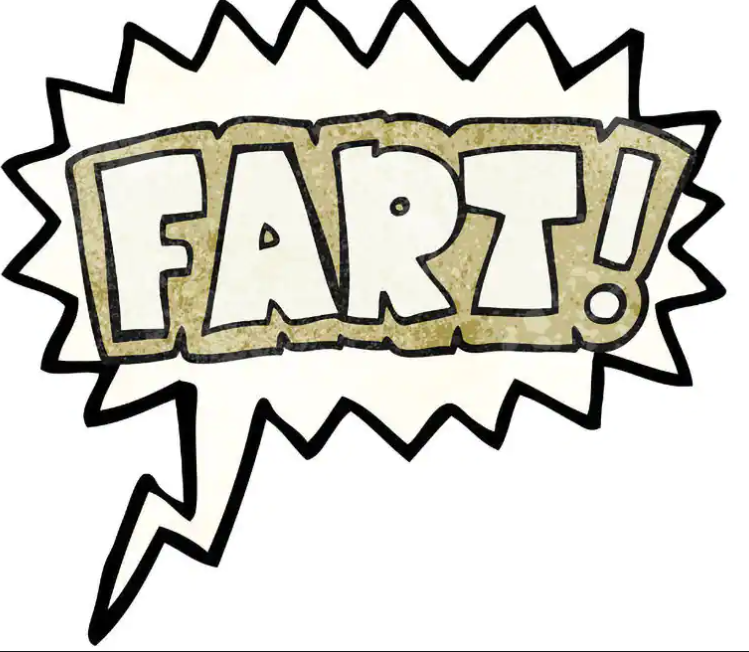 Dear Censored,
Apologise in advanced for such a gay and long email, but I've been meaning to send in my 2 cents over the whole Milo now being a recovering gaymen for a while now.

In his talks with pastors and whomever is on his show now, he mentions a lot the whole 'born this way' slogan that gets reiterated by the gay community and celebrities, and he'll say that it is wrong and untrue. I have to say I disagree and I think I can explain why he might be inclined to think this. Milo is clearly a bottom (/was a bottom) so his experience with lovers would mainly be with tops. I have found when talking to tops, they tend to be more straight acting, and when I've asked them 'so, when did you know you were gay?' They'll say it was some point later in life like high school or college. Conversely, when I've asked bottoms the same question, they'll almost always say that they've always known. ('… and I think I know wh-hhh-hhhhyy'):
Bottoms who are truly bottoms, who play no other role, tend to be very feminine throughout their lives, even as kids (as when they tell their coming out story to me they'll mention that their parents were already expecting them to come out from an early age). They also tend to have at least a few sisters. I've heard that some women are predisposed to giving birth to females, but these women if they ever have males will still feminise the foetus in the womb, thus giving them female traits, even the trait of wanting to be the fuckee and not the fucker. Add this to a theory entirely of my own that I came up with through being a top the past 15 years after coming out when I was 19:
The seam that every guy has running from their arsehole, across the gooch and up their balls; I have noticed that the more feminine and hardcore a bottom is, then the more pronounced that seam is. I believe that seam comes from when gender is being decided in the womb, where the template is female, but if fate grants you to be male, then what would have been your vagina is basically sealed and you grow a dick and balls on top of it. Additionally bottoms do tend to have smaller dicks as well. I think these types of gays who say they've known all their lives could genuinely be born gay, as they came so close to being female in the womb.
I used to like Milo. I've been against gay marriage since about 2010 as I could see it was putting more people off gays than turning them onto them. (Why aren't civil partnerships enough for them? You gotta have a Christian marriage when you're in no way Christian? Why not push for Muslim marriage then if you want religions to accept everyone? See where that gets you…) But watching Milo do his lectures in 2016 helped red pill me on everything else; Trump, Brexit etc. I feel now since his announcement, those days are long gone of helping turn any gays conservative. Not that we need the gay vote or anything, but more so anyone who sympathises with gays who are in greater number are all gonna swing further the other way from this.
Milo also has mentioned/joked about being molested by a priest when he was younger. I wonder if true, then maybe this whole Christian kick he's on is some deep seeded fetish from being traumatised as a teen by the clergy.
I do also recall him once saying that men have been sleeping with men since the dawn of time, and points to Rome etc. But now he's saying that it's all a farce made up by an agenda driven mainstream in just the last quarter century.
Sigh* at least we'll always have Milo and I. I can show that to most gays and they find him funny and appealing still.
Lastly I should mention I'm sending this from Hitchin in the U.K. So I can set the record for the gayest email submitted and first from your hometown!

Would have fucked Milo with his heels on,
Sincerely
-Long Hands.
Dear Censored,
What's up, Gav and Ryan?
I have a quick story to tell that I find both funny and irritating. A couple weeks ago, my uncle took his family on a vacation. Throughout the flight, he was yelled at by flight attendants every time he let his mask slip below his nose. Not only that, but he was also yelled at whenever his one-year-old daughter was seen without a mask, even when she was eating. His wife and two other daughters got plenty of shit too. It got to the point where they threatened to ban his entire family from the airline. Meanwhile, just across the aisle sat his 16-year-old son, who is adopted and happens to be black. This dude lost his mask in the airport and went the entire fucking flight without wearing one at all, and nobody said a word to him about it. He was on the same fucking row! They obviously saw him. If this isn't evidence of how racist the left is, I don't know what is. Fucking dumbasses didn't even try to hide it. By the way, I'm glad he didn't have his trip ruined over a stupid mask, but it's the hypocrisy that makes us laugh.
-Hayden
Dear Censored,
I like about a mile from this shite. Someone I follow on Twitter shared this: 
https://mobile.twitter.com/VenturaReport/status/1384928149054578688
-Fran
Dear Censored,
You were discussing Harry and Paul on your 100 show this week, and wondering what the show before Fast Show was…
It was Harry Enfield & Chums. Paul was quite prominent on this but it was definitely Harry's show, hence Paul leaving eventually to do his own thing.
Anyway, some of my favourites from that show:Yorkshire man- manages to be racist,  sexist and homophobic in the first 1min whilst also stereotyping northern, brilliant …

And as much as I 100% agree with you on their black and white stuff… there is ONE that is fantastic….Women – know your limits. Brilliant sexist comedy that has enough truth to be funny but equally over the top so women can laugh too

Ps – in England there is no silent 'l' in soldering. I have no idea why you yanks got rid of it. The way you say it sounds retarded.
But I think we also pronounce the 'l' in words like 'walk' and 'talk' more than you too. Or at least our pronunciations of those words sound more rounded.
Regards
-Jack 
Dear Censored,
Not sure if this is ancient Chinese secret but this is worse than the Shaver shooting. This guy answered his door with his gun in hand (which is legal) and was shot by the cops. He and his girlfriend were playing Crash Bandicoot on Playstation an the upstairs neighbor called 911 for a noise complaint but made it sound like a domestic issue to get the cops there quicker. No charges were filed against the cop who fatally shot Ryan and I doubt many people have ever heard his name because he's a white guy.
Also I'm the one who sent in the "Hey…you're cool" drop. So it was basically JLP interviewing some feminist broad and he asked her what a feminist was and she said a feminist is someone who looks at a woman and goes, "Hey…you're cool." Just a bit of context. 
-Daniel
Dear Censored,
I wanted to bring something up about a past episode of yours. On the episode "Mainstream Radicals"(at roughly 36 minutes in) Gavin mentions having perfect pitch, and then proceeds to misidentify every pitch afterwards, even making the mistake of thinking "I" was an actual note that could be played with an instrument in this universe. He then offloads the blame on Ryan as if this is some sort of damning evidence that he is an incompetent cohost(Ryan is a gift).
This starts out with Gavin talking about an autistic girl who has perfect pitch. Gavin mentions he also has this gift, which derails into a competition of Ryan's loyalty as a show host and Gavin as a hard-head convinced he can recognize pitches.
So after this comes into question, Gavin sings out a quarter step over G# while saying "B". Ryan says "Let's go to our virtual piano", and then goes on to play a B note. Gavin says "That was I, you asked for a B now your hitting I". After arguing about this for a short time Ryan then goes on to hit B an octave higher, Gavin then goes on to sing "That's what I said" in a pitch of D.
                Long story short. When Ryan says "That sounds like some bullshit excuse that I would make" after you sung "AAAAAA" in a very discernable C# note, and then went on to blame the speakers for changing the pitch, that was delicious. I don't think you have perfect pitch, and I also don't think Ryan believes that either.                Love both of you as more than a friend, and I like your new sunglasses,
-Trevor
Dear Censored,
Not super creative, but I responded to the president of my college telling her to fuck off when she emailed the enitre school about the Chauvin verdict. I'll probably be expelled, haha. Thank you for what you guys do.
-Jon

Dear Censored,
This seems to be the earliest utterance of the phrase "clown world" I've come across, spoken at 4:47 by one of the best riff writers in metal.

Blah,
-Castled
Dear Censored,
2 things. 
-the guy in the first or second pic on censored.tv's shop…Whoa. Thats a goofy man. See pic attached.
-i don't have strong opinions on this, but I stumbled across a vid of censored.tv's Jacob Wohl v Nick Fuentes. Kind of impressive. I know you can only show a sec, so a good minute or so starts at both 47:30, and 59:40.The whole thing is pretty great.
Also, I would love to taste both of your weiners. Peace
-Zack
Dear Censored,
How the holy fuck could some idiot do this to himself. It looked like he had a half decent shlong too. Fucking retarded faggot…….
https://efukt.com/22429_My_Life_Without_A_Cock.html
-Jason
Dear Censored,
Figured I'd get this off of my chest since I think you'd like to know about it.
About a year and a half ago, I DM'd Milo on Telegram asking a rather benign question, which was "Why was there a warrant out for Jacob Wohl's arrest?", thinking he knew what was going on. He replied, "Would you like me to do some Googling for you?? My fees go for $250 per search" I said, "Fine, I'll do my homework." Then he said, "Seriously?? WTF????", berating me in his typical diva fashion. After that, he posted our conversation on his main channel, declaring that he doesn't do favors for certain "randos" on Telegram.
It got even worse after that. He then instructed his chat room dwellers to mock me and bully me for money. Shortly after that, he took my picture AND my phone number (because I had it in my profile, foolishly) and plastered it on his channel stating that I owed him money. Soon people were spamming my phone and my messages, people were doing nasty photoshops of me in his chat.
Ultimately, I relented and paid Milo money just to get him off my back.
And we're supposed to think Milo is all of the sudden "straight"??? I'm over him. And he's certainly not doing himself any favors hamming it up with the people from the Westboro Baptist Church.
Let me know your thoughts on this.
-Mark C.
Dear Censored,
I thought you'd get a kick out of this. Above (and below) is a link to a "read aloud" of a book my son Hendrix and his second grade class was subjected to during story time. [Please read this next sentence in your amazing gay voice for max effect] It's called "Sparkle Boy" and it's about brave young boy who likes to wear dresses and paint his nails sparkling bright colors! 
I won't subject you to the entire 9 minute story but you should go to time stamp 6:11. This is what they are warping our kids brains with in the fucking Bay Area dude. 
I also attached a screenshot of my sons response he had turned in (pardon his spelling, he still spells everything phonetically. We're working on it, fuck off). I'm expecting a call from the principal or teacher about this and can't fucking wait. I'd appreciate a "how dare you" drop please. Love you both. (Sent from phone so mind my errors) 
Sex and heels,
-Scottie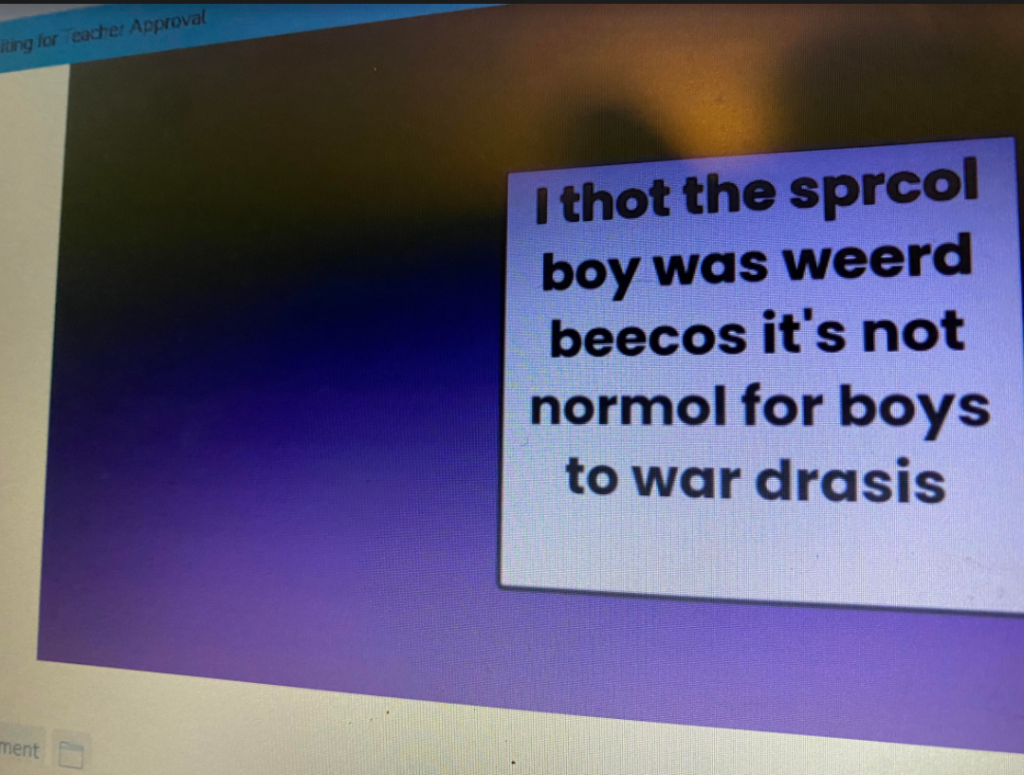 Dear Censored,
 think it's from this: 
-Dave
Dear Censored,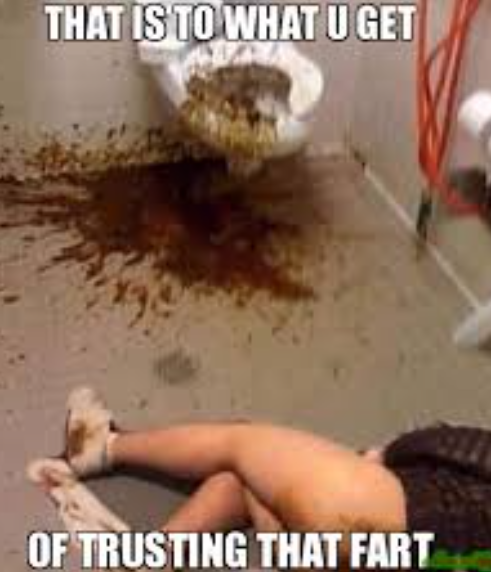 Dear Censored,
Please watch the video of the army lieutenant getting pepper sprayed by the police again.
My bullshit detector went off and I think this guy baited the cops. I think he drove around all night with no license plate hoping to get pulled over.
Notice he had his own camera set up and was decked out in his uniform. Also, the way he was talking was very strange, like he knew he'd be on camera. It's all very convenient.
This was a total con. I thought you'd catch it too. What do you think
-Crip
Dear Censored,
f you're gonna move to the south, you've gotta take a deep dive into outlaw country music. Start here with Waylon…
-Weston

Dear Censored,
Why did these parents even trust their child with this thug? They'll of course be no riots or any other words as in some sick way it's expected. 
https://www.dailymail.co.uk/news/article-9495417/Babysitter-24-killed-boy-one-wrestling-moves-angry-torn-pillow.html?ito=social-twitter_mailonline
-Adam
Dear Censored,
I thought this was the great fuckin tits bit you and Anthony were on about on Compound Censored.I was wrong but go to 40 seconds or there abouts still a decent tit sound drop also the start of the clip is funny when he sees his son brought a hot chick home.
-Jamie
Dear Censored,
By now you've obviously heard that they convicted Derek Chauvin on all three charges. And a lot of people said that it was because the jury was afraid of the consequences if they found him not guilty. 
But what if…and bear with me…there was no actual jury decision. 
The state could've dismissed the jury because of their indecision, and then the judge read the decision that the state wanted to cover their asses and make it so the riots weren't going to be as bad. That's why the judge said the jury would remain anonymous until HE deems it safe…which could be never, or long enough to scrounge up people to say they were part of the jury. 
I'd say that this would be impossible to believe but we watched them bury blatant pedophilia, and let America's most prolific child sex trafficker die in prison while the cameras conveniently didn't work. 
For the record I don't believe any of what I just said minus the Epstein shit. But what if?? 
Keep it real, 

-Evan

P.S. Tell Kangaroo Boy that he needs to turn up his mic in his "Devon Tracy is sick of editing" episodes because I can't hear him for shit even when the volume is all the way up. 
Dear Censored,
Too soon?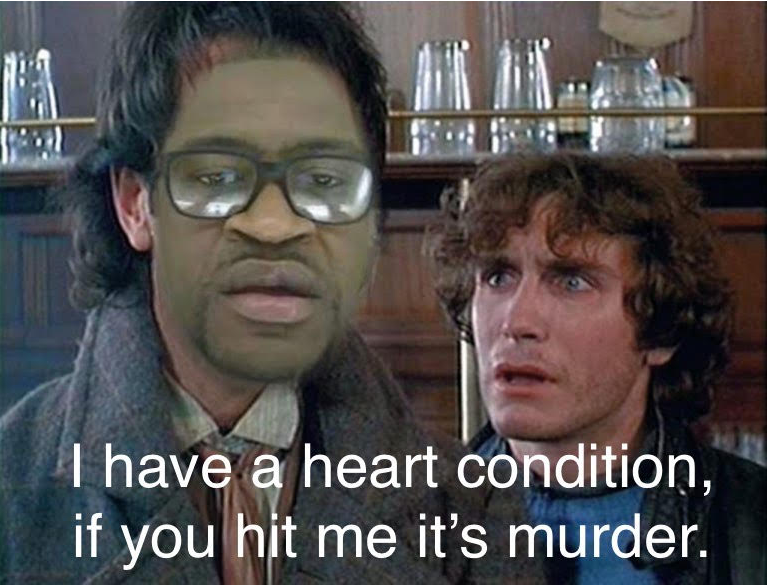 Dear Censored,
I know you aren't big on music recommendations (as am I except your show) because most people's recommendations suck ass and I bet your daughter has good taste but these two songs just gave me more of your vibe and had to get your opinion on them.
Like you more than a friend,
-Dakota


Dear Censored,
Here is a link to a guy who talks with the scammers like your on-air phone call yesterday. He takes on various personas, allows them on to his fake online bank and messes with them for hours to waste their time and get their information so he can report them. His clips are all basically short stories so something to watch on your own or show the kids. This is more of a PSA.. I know you are smart enough not to fall for them, but many of your subscribers are not as astute..
    Anyways, all these scammers are Indian, and there are an abundance of profitable call centers abroad. I have a feeling the government is lenient towards these scumbags because they are extorting millions of dollars into their own country each year.
-Bryan
Social Security Scam Except Granny Is Guilty
Dear Censored,
Here is a perfect drop for the Left when they whine.
4 seconds and ready to go
-Zach
Dear Censored,
not sure if you've found this already or not:
-A.J.
Dear Censored,
Range Rover is owned by Tata the Indian company
-Texas
Dear Censored,
I need your medical opinion on whether this man is inflicted with the rare mental disorder "The Sparkles".
-Wayne
Dear Censored,
I hope this isn't an ancient Chinese secret. But have you seen this guy od in the same restraint that George floyd was in. Love you, no homo.
-David
Dear Censored,
It's weird seeing shit like this on a military installation, like when you talk about tough new york sounding people voting for Hillary Clinton. It just doesn't fit into my brain.
-Randy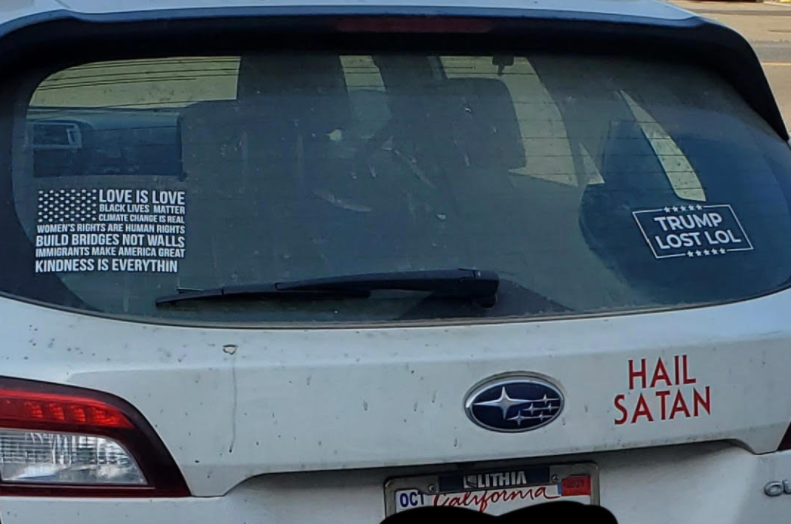 Dear Censored,
Seeing chauvin imprisonmented doesn't surprise me. However I think a lot of why this carries is if they can get a meme going. One photo, the Adam Toledo thing is ridiculous but carries on, why? They've got the photo. Attached is a photo of the juror, apologies if its ancient Chinese secret, but it's an optic meme that counteracts that knee on that unbruised shoulder. Thanks,
-Adam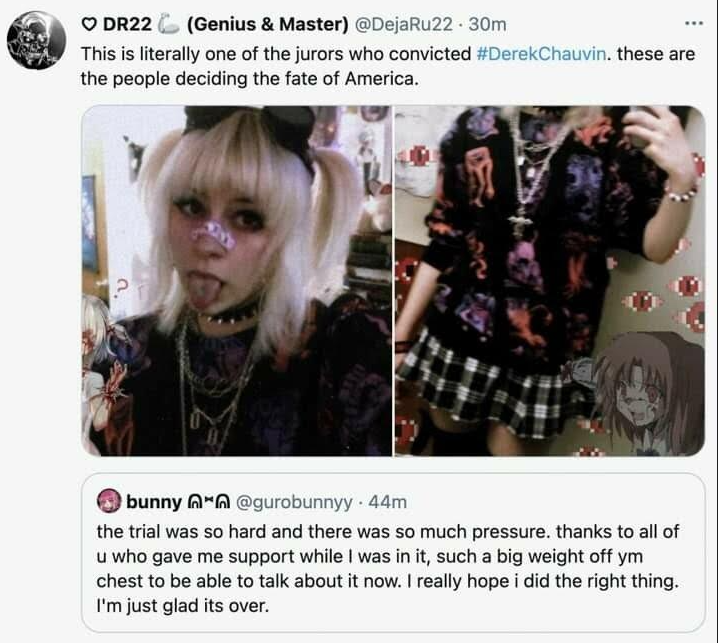 Dear Censored,
Wife sent me this email from work. The black CEO who makes $7m a year (who replaced a different black man who made $7m a year) is bemoaning racist America and celebrating an innocent man going to prison.
Hugs and kisses,

-Kurtis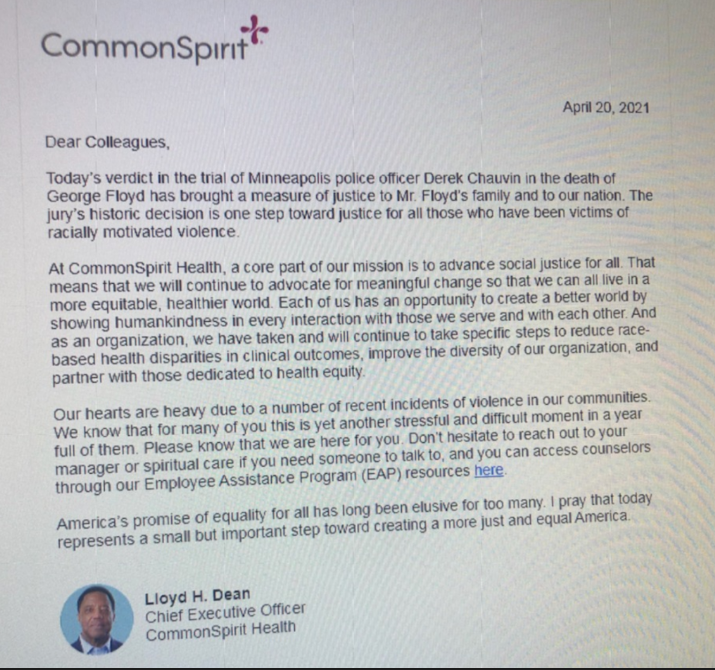 Dear Censored,
200,000 out of 400,000 empty committeemen volunteer positions in the Republican Party. These are the people who pick who is running in the party. You don't have to run you just go to your county or city party and ask if there is an empty seat and volunteer for it. Here is an article that goes into more detail. If PB took a bunch of seats they could get people in primaries to represent them that hopefully don't cave to the pressure.
https://www.thegatewaypundit.com/2021/04/big-news-several-georgia-counties-vote-replace-rinos-pro-trump-committeemen-one-georgia-county-votes-censure-kemp-raffensperger/
-Trease
Dear Censored,
On your 100th episode, you were talking about the bass player from school of rock getting into drugs. I went to school with the guy who played lead guitar in the movie, Joey gaydos jr. He was made fun of so much for being in that movie when he came back to Michigan that I think it fucked him up a bit. He was a huge stoner in high school and he had completely dropped off and I guess he moved to Florida after. I didn't hear of him again until I saw the article below saying he tried to steal a bunch of guitars, probably for drug money. Cello! You're a fuck up!
Frank
https://www.yahoo.com/amphtml/entertainment/school-rock-child-star-joey-gaydos-jr-arrested-multiple-times-stealing-guitars-120456360.html
Dear Censored,
Dunno if yall seen this but

-Kyle
Dear Censored,
I thought you should be made aware…
The book you presented, "When Harry Became Sally" on a previous episode of GOML that aired a couple weeks ago was removed from Amazon recently. Amazon then proceeded to promote several other books written in direct opposition of "When Harry Became Sally". The whole thing is very orwellian.
Amazon put out a statement that they, "would not sell books that frame gender or sexual identity as a mental illness".
Censoring free speech comes in all forms and fashions. It would seem we are getting close to mass book burnings don't you think?
Respectfully,
-John
Dear Censored,
Not entirely canceled. Maybe don't play on the show?
Also, again, play tennis with your women. They will fuck better.
-Foff
Dear Censored,
Watch "Kid laughs at his dad's Yorkshire accent" on YouTube
-Daniel
Dear Censored,
Old man gets pissed because someone took his soup
-Lucid
Dear Censored,
You guys have 10 million sopranos drops, but zero Johnny Rotten ones.
He's a quote machine, get on the ball and off my lawn.
-Scott
Dear Censored,
Thought you might be interested in this recently unearthed audio of Hitler speaking English and sharing his unvarnished opinion of the Jews (not for the easily offended, for obvious reasons.) Only 8 seconds long, but chilling stuff
Dear Censored,
Old news but since you thought Hank Johnson was touched you should see the person he took his current seat from. She blames the Jews for everything
-William