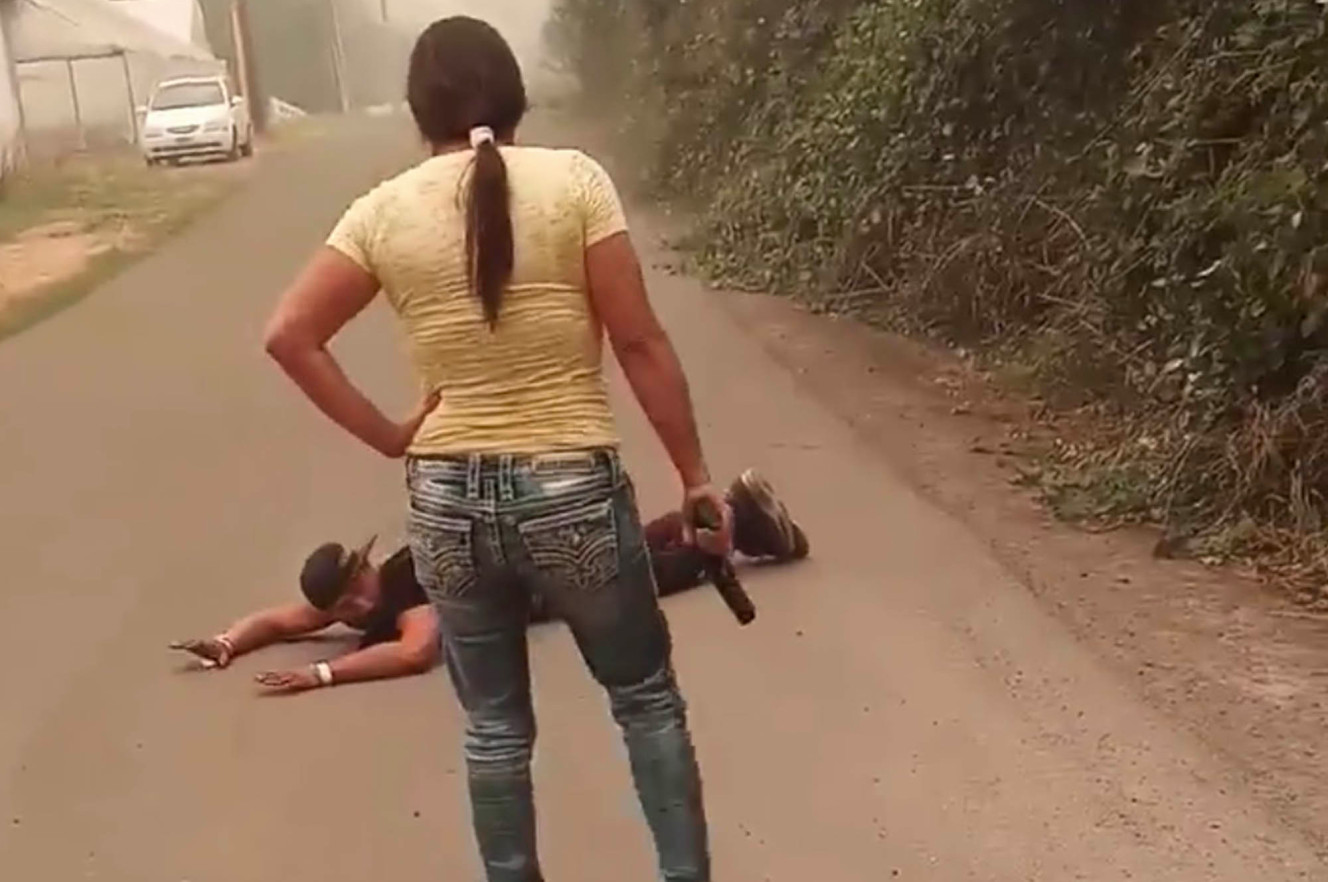 Dramatic video shows an Oregon woman nabbing a suspected arsonist and forcing him to the ground at gunpoint, the New York Post reports.
The woman allegedly found the man on her property with matches attempted to start a fire as more and more wildfires ravage the area nearby.
"What are you doing on my property? Did you light anything on fire?" the woman, Kat Cast, says to the suspect while she brandishes a firearm. Cast posted footage of the encounter on Facebook.
The unidentified man responds that he is "just passing through." Cast continues to interrogate the stranger, asking why he is holding matches.
"I smoke," he says. Cast then asks to see his cigarettes and he is unable to produce them, telling her he doesn't have any. She then forces him to the ground, where he remains until law enforcement shows up and takes him away. It is unknown where in Oregon the incident occurred and whether the man faced charges.
"If I need to do this again to protect my family and my neighbors, I will in a heartbeat do it again, except this time I will not be as nice as I was," Cast wrote in a Facebook post. "I will not put my family in danger by exposing myself any more than what I have already."
Wildfires have torn through the state and entire West Coast in recent weeks. The New York Post reports smoke from the blazes has reached as far away as Europe.
With half the fire season still to come, resources to battle the blazes have been stretched thin, according to the Associated Press.
Washington State Forester George Geissler told the Associated Press there are hundreds of unfulfilled requests for help throughout the West. Agencies are constantly seeking firefighters, aircraft, engines, and support. Personnel and resources have been at near 80 percent capacity since mid-August.
Fire crews have been summoned from at least nine states and other countries, including Canada and Israel, reports the Associated Press. Hundreds of agreements for agencies to offer mutual assistance have been maxed out at the federal, state, and local levels.
Why Democrats, media, and climate alarmists continue to blame global warming for the annual fire season in the Western United States, others have suspected arsonists and agitators may be starting some blazes. Experts have also blamed California's fire problem on poor forest management and anti-logging laws in the Golden State.
Last week, four people were arrested in the area of the blazes on suspicion of arson. Two men in Washington State, one man in Oregon, and one woman in California are facing charges, according to the Daily Wire.
Police also accused Michael Jarrod Bakkela, 41, of starting a separate fire near Phoenix, Ore., Oregon Public Broadcasting reported. In a statement, the sheriff's office said "residents witnessed Bakkela lighting a fire behind their house on Quail Lane."
Anita Esquivel also was arrested in Monterey County, Calif., after reportedly starting fires near Highway 101, though the number of fires was not released, according to KION.
The latest reports suggest at least 20 people have died in California, eight in Oregon and one in Washington State from the deadly fires.