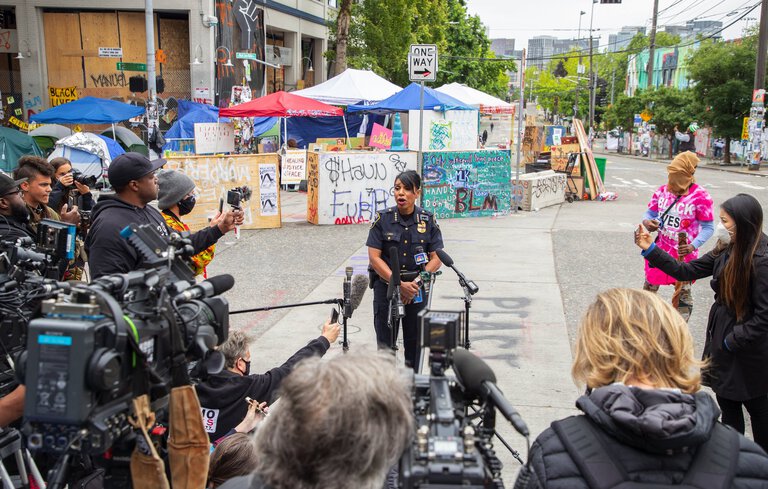 ANOTHER FATAL SHOOTING IN SEATTLE'S 'CHOP' ZONE
---
Surveillance video captured another fatal shooting on Monday in Seattle's CHOP autonomous zone that took the life of a 16-year-old boy and leaving a 14-year old in critical condition. The video shows gunfire as a jeep plows into the teenagers with audio of someone screaming: "Oh, you're not dead yet?'
Homicide detectives have said the two teenagers were shot near a makeshift barricade that is prevalent throughout the Capitol Hill Organized Protest (CHOP) zone. The self-appointed and heavily armed CHOP security guards returned fire after the teenagers shot upon them and breached the barricade.
According to the police, witnesses told 911 dispatchers that saw several unidentified individuals firing upon the vehicle but failed to mention the "teens were armed" in a "stolen jeep."
Multiple gunshots can be heard in the surveillance off in the distance in the minutes leading up to the jeep coming into frame. As the vehicle comes around the corner, at least three shots can be heard before crashing into the makeshift barricade. Ultimately, dozens of shots were exchanged in the gunfight. It is still unclear from the footage who shot upon who first.
A female protester can be heard calling for help, yelling at the CHOP security. The surveillance video has audio of a man screaming: "Get on the ground," "oh, you're not dead, huh?" and "you want to get pistol-whipped?"
The police reported that both teens were taken to a nearby hospital by self-identified "Chop Medics" after the shooting and before police arrived on the scene.
In a police statement, the detectives concluded that the crime scene was clearly tampered before their arrival.
Although some unnamed witnesses claim the police investigation was "cursory," the Seattle Police Chief Carmen Best said the jeep was investigated, but it was clear that the crime scene was disturbed. "The typical things we search for in a case like this, or in a shooting like this, weren't there, and it was abundantly clear to our detectives - people had been in and out of the car after the shooting," she said. "Detectives are trying to get information from witnesses, but as has been the case in other crime scenes up in this area, people are not being cooperative with our requests for help. We're not sure who shot at the car or why they shot at the car."
This has been the fourth shooting that was either in or near the CHOP zone in 9 days.
Chop security members have been routinely seen and recorded by video carrying pistols and long rifles.
Donald Trump tweeted a few weeks earlier about the lawless city: "Seattle Mayor says, about the anarchists takeover of her city, "it is a Summer of Love." These Liberal Dems don't have a clue. The terrorists burn and pillage our cities, and they think it is just wonderful, even the death. Must end this Seattle takeover now!"
It isn't clear when the violence will end or when the city of Seattle will return to normalcy.