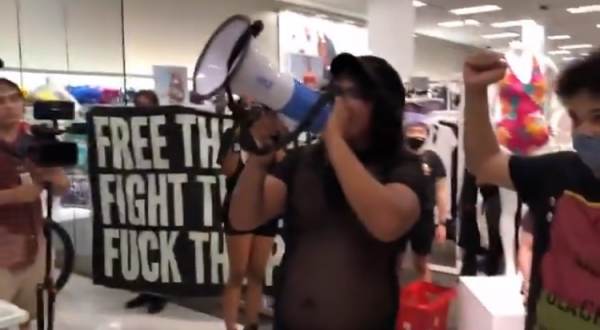 BLM INVADES DC TARGET AND THREATENS TO 'SHUT IT DOWN' IF ABSURD DEMANDS AREN'T MET  
---
Black Lives Matter focused their efforts on a Washington D.C. Target store in a deranged protest attempt this past Friday. Incapable of choosing their own words, the admitted-Marxist group read out loud from a scripted statement into a bullhorn demanding Target never call police on a black person committing a crime again. If the store refused, they threaten the consequences would be the mob shutting them down.
The leader shouted at shoppers in the store, "All black people, living around this neighborhood, living around in this neighborhood, because you prioritize money over people, so until you stop calling the police, we continue to shut your business down."
The cult-like assembly then began to chant the words, "Until you stop calling the police, we'll continue to shut your business down."
The social justice flash-mob carried signs that read:
"NO JUSTICE, NO PEACE, #BLACKLIVESMATTER"
"ABOLISH THE INSTITUTION WE NEED A REVOLUTION"
"DEFUND AND ABOLISH MPD"
As well as, "FREE THE PEOPLE, FIGHT THE POWER, FUCK THE POLICE."
The marching orders seemed to mirror Black Lives Matter leader Hawk Newsome, who appeared on Fox News last week with a live terror-threat saying, "If this country doesn't give us what we want, then we will burn down this system..."
Local D.C. journalist Drew Hernandez was on hand to video the bizarre scene and promptly tweeted it out.
"Black Lives Matter literally threatened @Target today in DC," Hernandez said on his Twitter. "Apparently if that @Target in DC ever calls the cops on a black person ever again BLM will shut them down. Sounds a lot like what Hawk Newsome said on Fox the other night about 'burning down the system.' Radicals."
Adding, "I really would like to know why DC Police allowed BLM to trespass into a DC Target to make threats tonight with customers still inside."
Hernandez's coverage of the Black Lives Matter was removed by Instagram, which is owned in connection with Facebook, after posting about the recent chaos.
Hernandez wrote on his Twitter account "Ever since I started covering BLM DC protests this weekend @instagram has been deleting hundreds of my followers," adding "There also is some algorithm on my account where some people attempting to follow me get unfollowed 15 seconds after the follow." He also pointed out "View count is down as well."
The leader of the nuisance at Target did a similar performance piece last Thursday at a D.C. restaurant. He read from a different script that said:
"We are here tonight while you are dining because black people are dying at the hands of the police. So, while you are dining, we are sorry for your inconvenience, but black people are dying today. While you are dining, we're going to read you some facts about the murder of black people. We are here tonight because black lives matter. We are here tonight because black trans lives matter."
Which was followed with chants of "Free the people. Fight the power. Fuck the police."
Breitbart News spoke with the restaurant manager to question if the establishment was in on the protest. He told them, "No. They came in of their own free will, and there were too many of them to kick out, so I just kind of let them do what they wanted to."
Before leaving, the protestors implored the guests trying to enjoy their meal:
"If you believe that black lives matter, if you believe that black trans lives matter, we ask you to raise your hand up in the air in solidarity with all black and brown murdered by the police. We demand you to abolish the police."
Multiple frightened patrons trying to move on with their night raised their hands.